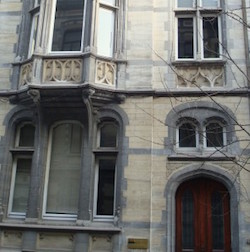 Hans Van de Cauter and Nicolas Delvoie practiced many years within renowned law offices.
On 1 March 2015, with wide experience and practice in several languages, they decided to establish together BE-LEX, a new law office situated in Dautzenberg street 42 in 1050 Brussels (Ixelles-Elsene). Since 1 January 2017, the name of the office is BE-IUS. It offers quality legal services to companies and private individuals in real estate law, commercial law, inheritance law and civil tort law.
Hans and Nicolas also aim to offer their clients reasonable tariffs (see the page with the fees).
The office is located in a side street of the Avenue Louise, Rue Dautzenbergstraat 42, 1050 Brussels.
Here is the map to find your way to our office: